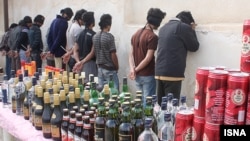 Dear subscribers,
This will be the last edition of The Farda Briefing before we take a summer hiatus. In the meantime, please let us know what you have enjoyed about the newsletter in its current format, and what changes or suggestions you have for the future. Please send them to newsletters@rferl.org.
I'm RFE/RL correspondent Golnaz Esfandiari. Here's what I've been following during the past week and what I'm watching for in the days ahead.
The Big Issue
Since the Islamic Revolution in 1979, alcohol has been strictly banned in Iran, where consuming, producing, or selling alcohol is punishable by prison, floggings, and fines.
Despite the official ban, Iranians still drink foreign and homemade alcoholic beverages that are sold on the black market.
Over the past year, there has been a spike in the cases of fatal alcohol poisoning, according to medical officials in Iran.
On June 16, at least 14 people died in the northern province of Alborz after drinking bootleg alcohol, state media reported. Another 175 people suffering from alcohol poisoning symptoms were taken to the hospital.
Abbas Masjedi Arani, the head of Iran's Forensic Medicine Organization, said on June 20 that 644 people had died from alcohol poisoning during the past Iranian year, which ends on March 20. That, he said, was a 30 percent increase compared to the previous year.
Why It Matters: The reason for the surge in cases of fatal alcohol poisoning is unclear. But experts say alcohol consumption has increased in the Islamic republic in recent years.
Some have suggested that growing alcohol use is tied to the deepening economic crisis in Iran, which has witnessed soaring inflation, rising unemployment, and growing poverty.
Researcher and therapist Mohammad Ghadirzadeh told Iran's Etemad daily that alcohol use has increased over the past five years, including excessive drinking. He said Iran has few alcohol rehabilitation centers, and many who suffer from alcohol abuse are too afraid to seek help.
"The main problem is that many alcohol [abusers]…refuse to go to the hospital or medical centers because they are afraid that going to the hospital would result in a legal case [against them]," Ghadirzadeh said.
What's Next: The authorities do not appear to have a clear plan to curb cases of fatal alcohol poisoning.
Experts said there are likely to be more cases during the summer, when people usually take trips and hold celebrations.
Physician Hossein Hosseinnia Moghadam, speaking to the Hammihan daily, said demand for alcohol is rising in Iran.
He blamed the cheap alcohol available on the black market, which often contains methanol, for the rise in alcohol-related deaths.
Addiction expert Hooman Narenjiha said Iranians are turning to cheap homemade alcohol because many can no longer afford to buy foreign-made beverages.
Stories You Might Have Missed
Students from at least a dozen universities across Iran have issued statements of solidarity with their peers protesting at Tehran's Art University as anger builds over increased enforcement of dress codes on campuses across the country. Protests at the Art University escalated last week following the university's insistence on making the Maghna'eh -- a black cloth covering the head, forehead, chin, and chest -- mandatory. Students staged a sit-in at the university's National Garden campus, which was met with violence from security forces.
Authorities in Iran's southwestern province of Fars banned retail stores and grocery shops from employing foreigners as salespeople and shop assistants on June 5. The decision has adversely affected Iran's large community of Afghan refugees and migrants, including some who fled to the Islamic republic following the Taliban's takeover of Afghanistan in 2021.
What We're Watching
Iranian Foreign Minister Hossein Amirabdollahian is visiting Qatar and Oman this week for talks with senior officials.
Abdollahian's trip comes as Iran said it is engaged in indirect talks with the United States over a possible prisoner swap and the lifting of crippling U.S. sanctions. Tehran said the talks have been mediated by Oman.
Why It Matters: The indirect negotiations appear to show that Tehran and Washington are keen to de-escalate tensions.
Observers said the talks could possibly lead to a deal under which Iran releases Americans held in Iran and accepts limits on its sensitive nuclear activities in exchange for relief from U.S. sanctions and the release of some of Iran's frozen funds held abroad.
Oman's foreign minister said on June 14 that Tehran and Washington were close to finalizing a deal on the release of the at least three Americans held in Iran.
That's all for now from The Farda Briefing. You can follow our coverage of Iran on our Farda English page.
Until next time,

Golnaz Esfandiari
We invite you to check out the Farda website in English and its dedicated Twitter account, which showcase all of our compelling journalism from Iran. Why not check out our other newsletters, too, or subscribe to one of our podcasts?