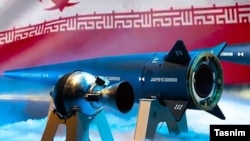 Welcome back to The Farda Briefing, an RFE/RL newsletter that tracks the key issues in Iran and explains why they matter. To subscribe, click here.

I'm RFE/RL correspondent Golnaz Esfandiari. Here's what I've been following during the past week and what I'm watching for in the days ahead.
The Big Issue
Iran unveiled what it described as its first domestically made hypersonic ballistic missile on June 6, claiming it can travel up to 15 times the speed of sound.
Iran's official news agency, IRNA, posted images of the new Fattah missile. The weapons system was unveiled at a ceremony attended by President Ebrahim Raisi and commanders of the Islamic Revolutionary Guards Corps (IRGC).
Amirali Hajizadeh, head of the IRGC's aerospace force, claimed the missile has a range of 1,400 kilometers and can reach a speed of 15,500 kilometers per hour. He boasted that the missile is capable of evading any anti-missile defense system.
Western military experts say Iran sometimes exaggerates figures for the capabilities of its weapons.
Why It Matters: Iran has been expanding its missile program in recent years, with Tehran believed to have the largest and most diverse ballistic missile arsenal in the Middle East.
The United States and Israel see Iran's missile program as a threat to the region, warning the missiles could be used to carry nuclear weapons. Iran has said its arsenal is for defense and deterrence purposes only.
Experts say the speed and maneuvering capabilities of hypersonic ballistic missiles make them difficult to track and intercept.
But they have raised questions about the capabilities of the Fattah missile.
Fabian Hinz, a research fellow at the International Institute for Strategic Studies, told me it does not appear to be as sophisticated as the hypersonic missiles that the United States and China have developed.
Hinz said the Fattah missile "can do some basic maneuvers, but not for the same amount of time and not as dramatic" as systems developed by other countries.
Jeremie Binnie, a Middle East defense specialist at the global intelligence company Janes, told me there are "questions as to whether it is really capable of accurately hitting its target at the very high speed that has been claimed."
What's Next: The unveiling of the Fattah missile is likely to increase the West's concerns about Iran's missile program.
Only several countries, including the United States, China, and Russia, have developed hypersonic ballistic missiles. Russia is believed to be the only country to have deployed them in combat. North Korea has also claimed it has successfully tested a hypersonic missile.
Hinz said despite its limits the Fattah missile is "another technologically sophisticated element in Iran's strategy of overcoming the ballistic missile defenses" of its regional adversaries.
Stories You Might Have Missed
The former head of Tehran's notorious Evin prison has expressed "shame" over the mass execution of political prisoners at the facility in 1988, in unprecedented comments on Clubhouse. Hossein Mortazavi Zanjani claimed he was not involved in the executions. While some Iranians praised his comments, others questioned his motives.
An Iranian cultural official has been sacked after a viral video showed a man proposing to a woman without a head scarf at the tomb of a celebrated Persian poet. The video shows violations of Iran's harsh morality laws, such as women with their heads uncovered and the man publicly embracing the woman, while a crowd applauds.
What We're Watching
The authorities in Iran appear to be increasing pressure on female university students to adhere to the country's Islamic dress code.
A local students group reported on June 5 that a significant number of students from Tehran's University of Science and Technology as well as at least 11 professors were summoned during the past week.
The reasons cited were an alleged refusal to comply with mandatory hijab rules and what university authorities termed "inappropriate dress."
Why It Matters: Iran's universities turned into a battleground between the authorities and protesters during the monthslong antiestablishment demonstrations that erupted in September.
The rallies were triggered by the death of Mahsa Amini, a 22-year-old woman who died shortly after she was arrested for allegedly violating the hijab law.
Campuses were often the sites of demonstrations led by students and bloody government crackdowns.
The authorities' ongoing pressure on students could trigger new protests at universities, which have often been at the forefront of the struggle for greater rights and freedoms in the Islamic republic.
That's all from me for now. Don't forget to send me any questions, comments, or tips that you have.
Until next time,
Golnaz Esfandiari
If you enjoyed this briefing and don't want to miss the next edition, subscribe here. It will be sent to your inbox every Wednesday.